Come visit us

at the Wine Loft
In an environment where different opinions meet and where confrontation is not feared, explore the different souls of the Langhe wines.
We are at the Annunziata, the crucial center of the production of Barolo from La Morra.
If you decide to come and visit us in this wonderful place, you will, hopefully, find something out of the ordinary. Professionality and competence, together with "not taking ourselves too seriously"
The visit gives us the opportunity to impart our principles, which never forget the convivial origin of wine.
It's important for us to create a bond with the visitor, communicating the meaning of what we do not only in the form of a product, but also of emotions, commitment and vision.
The wine loft
A place of encounter and confrontation
Our wine loft at La Morra, as well as being the aging cellar of the precious Barolo, wants to be a place of encounter and confrontation, in which the exchange between inside and outside gives us the motivation to always grow and test ourselves.
Most of the time I'm the one who welcomes you in the cellar, but it may happen that Mauro and Alessandro are also there, when they aren't too busy between vineyards and worldwide travelling.
Don't be afraid to express your thoughts, don't feel "genato" (shy): here every opinion is evaluated, as long as it is expressed with respect and a good sense of humor!
Discover a territory
Not everyone comes to visit us with the same goals.
The Langhe are internationally associated with Barolo, the main wine of the area, but the local winemaking tradition is rich in vines with different characteristics.
There are the noble reds (Barolo, Barbaresco and Roero), and those considered more peasant, less refined but equally peculiar. Then there is the world of whites, also rich in nuances that are closely related to the territory.
For this reason we offer two types of tasting, to discover all the aspects of an enologically rich and articulated land like ours.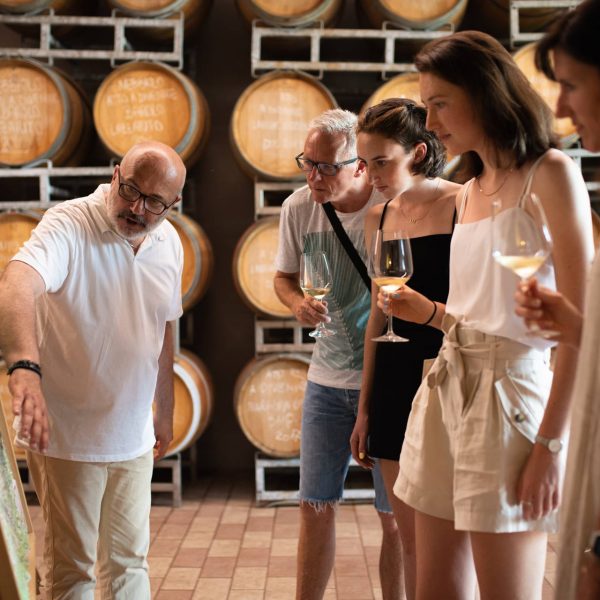 A walk in the vines
Before starting the visit, if you are interested and weather conditions allow it, we can take you for a short walk in the vineyards near the winery: you will be able to discover firsthand that the saying "the wine is made in the vineyard" is not a common place, and fill your eyes with one of the most suggestive hillside landscapes in Italy.
Types of

tasting
We propose two different types of tasting, one designed with the aim of covering the "basics", which are the native varieties of Langa, and another focused on aged wines.
Both types will be accompanied by some typical products of our area, possibly also by Light Lunches.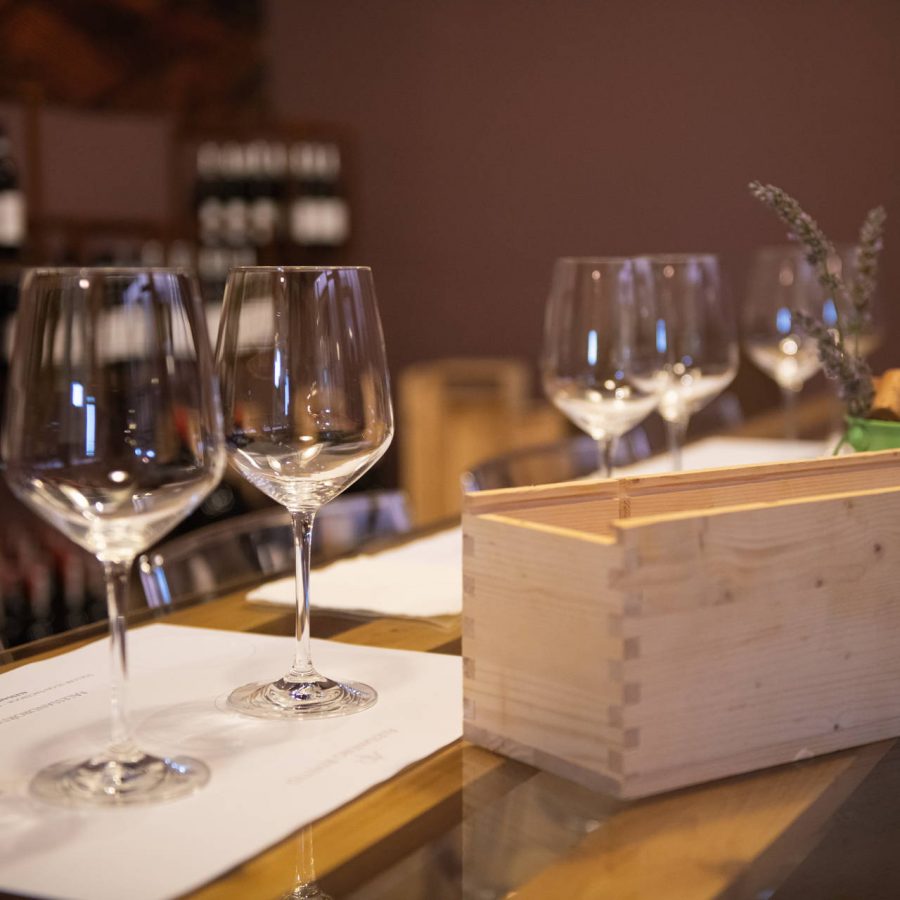 Standard Tasting 20 €
This formula focuses on the knowledge of the main native vines of the Langhe: Arneis, Dolcetto, Nebbiolo and Barbera, authentic reflection of the characteristics and potential of the territory.
The tasting wines vary according to your preferences: tell us what you like, we'll give you a general idea of what it is that makes the Langa a unique place.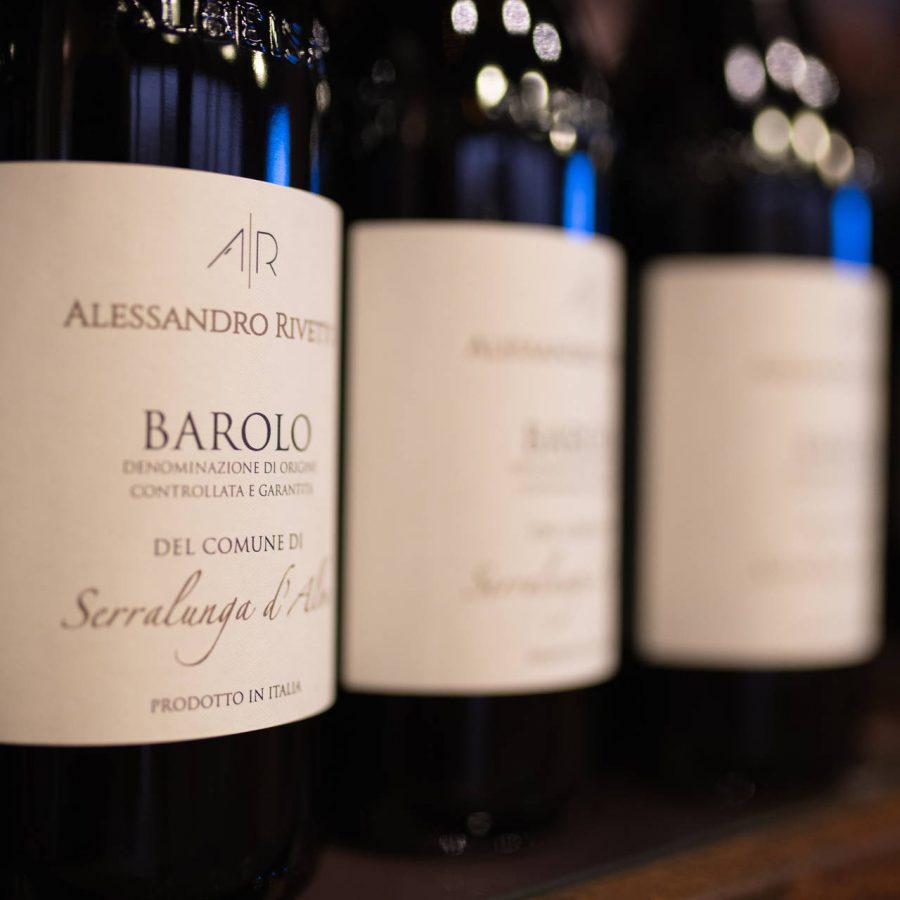 Premium Tasting 30 €
This choice will take you on a journey to discover the great Nebbiolo-based aging wines.
With 4 tastings you will discover the nuances of Barolo and Barbaresco, the peculiarities of the different terroirs from which we get our most prestigious labels.
Book

your visit
Fill out the form, or call us at +39 0173 1950108.
Do you have any doubts? Read the frequently asked questions.
1. Quali sono gli orari di visita? La degustazione è disponibile dalle 10:00 alle 18:00, ma è sempre consigliabile la prenotazione.
2. Quanto costa la visita? Puoi scegliere tra due tipologie di degustazione: Standard: 20 € Premium: 30 €
3. Quanto possono essere grandi i gruppi? Riusciamo ad accogliere fino a un massimo di 16 persone per volta.
4. E' presente un parcheggio? Si parcheggia facilmente davanti alla nostra cantina di La Morra, sia con macchine che con piccoli pullman.
5. In quali lingue potete accogliere i visitatori? Inglese, italiano o francese.
6. Si possono portare animali domestici? I vostri amici a 4 zampe sono i benvenuti, a patto che si comportino bene 🙂
7. Accettate le carte di credito? Sì.
8. E' possibile prenotare il vino/prodotti durante la visita e farseli spedire a casa? Sì.
House Matirè

your stay in Alba

A few steps from the town center, the house welcomes at its best any type of visitor, be it a tourist or on a business trip.

Equipped with all the comforts of a private home, this apartment is the base you are looking for: two double bedrooms, 77 square meters , absolute independence.